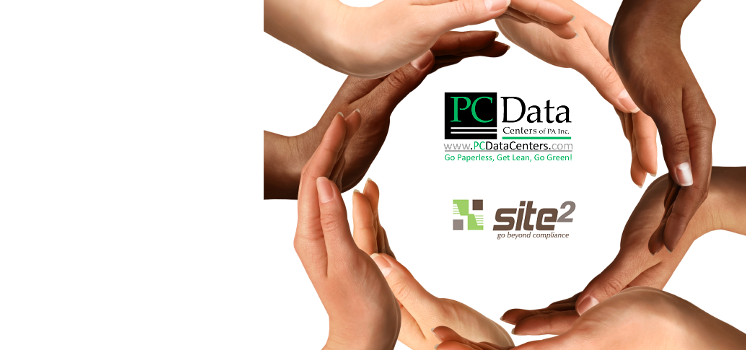 Introducing a Strategic Partnership! Services Now Offered By PC Data Centers of PA, Inc. and Site2
With Site2's focus on hosted core business services they have been in business since 2005. With our services combined we now offer POWERFUL Services that can't be matched!
Here are a few of the services offered:
1. DIGITAL OFFICE
What happens if your servers crash, or worse yet you are hit with a disaster? Do you have your information hosted offsite so that you are in Compliance and can stay in business? Once again the word Compliance comes in. Does your company get audited? Or worse yet are you not prepared if you were to be audited? With PC Data Centers and Site2 together we have created a Digital Office, where you can ACCESS YOUR FILES ANYTIME ANYWHERE FROM ANY DEVICE!
Secure Storage – Documents are scanned and stored in our secure and compliant data centers.
Automation – Automatic upgrades, automatic patches and live person, expert support will bring you piece of mind.
Cost Savings – Hosting helps lower the cost of IT desktop management by up to 50%.
Go Paperless – Securely access files right from your computer instead of filing cabinets.
Mobility – We can also host your entire "Desktop", creating a digital office that you can access from anywhere, at any time, using virtually any device.
Let us help you create your Disaster Plan and increase your company's revenue!!
 2. Hosted Microsoft Exchange Email-Email hosting and e-discovery capabilities
What can email hosting and e-discovery do for your company? You as a company no longer have to babysit your email. Many organization fail to properly manage message compliance. Not only is it the most secure email, it also allows you to search for emails you may have thought you did not need by all of your old emails being backed up and archived for the amount of time your company needs for them to be in Compliance. Yes Compliance, have you looked lately at the new laws? Did you know that you need to keep your emails for a certain amount of time now? Every scope of business is different. Did you know schools have to keep emails for 99 years? However long your company needs to be in compliance with emails Site2 easily does this for you, without you having to worry about security, backups, and archiving your emails ever.
The above shows just a few of the services that we are now offering through PC Data Centers of PA, Inc. & Site2. Any questions or comments are welcome.
Irene Walters, PC Data Centers of PA, Inc.